Sunday, August 10th, 2008
---
11:16 pm
- Oh my god.. I've disappeared.
nothing to say atleast right now.. will post some new poems or songs or crap whatever you wanna call it... not like it matters
maybe my writing skills have gone to the dumps or so i've heard. :-/
see you on the other side my friends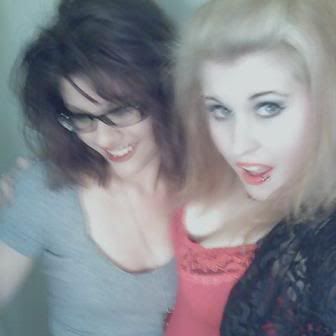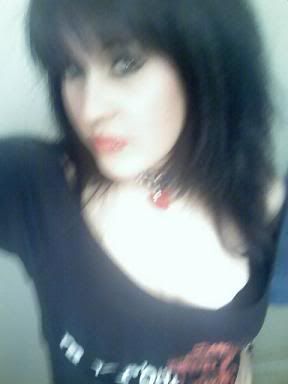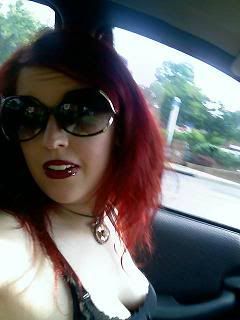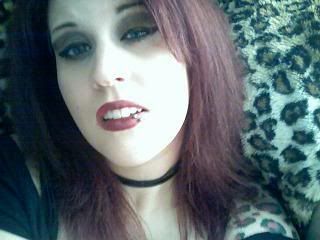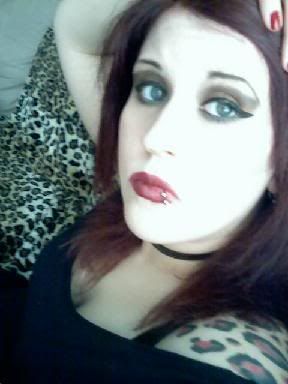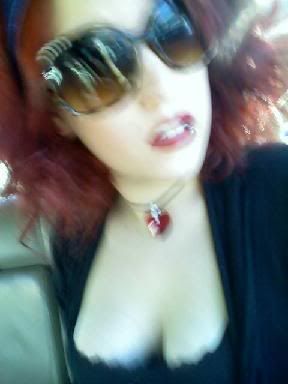 current mood: Lost is that a mood? hehehe
Wednesday, April 16th, 2008
---
10:08 am
- ROFL.... how true
current mood:
giggly
Thursday, March 27th, 2008
---
11:46 am
- I'm sorry my eyes aren't the color of shit.
Thousand miles I've traveled
in sandstorms, rain & snow.
I fought to get you back & now
the world is gonna know.
--------------------------

You paint a pretty picture
and try to imitate...
the greatest thing of all though,
is something you can't make.

You can try to look like me
& act the way I do...
but all the acting in the world
shows that you haven't got a clue

I'm the one thats always been there
for years & through the bad...
so whatever experience you have to share
can't compare to what we've had

You can write and visit
come and go as you may please
but you think to get someone to love you
is just by getting on your knees

There is no amount of attraction
that was ever there
so all the pictures that you post
are fading in thin air

If you think you can compare to me
just try and let me know
cause all you are is a lonely girl
thats living in an empty soul.

current mood:
dirty
Monday, March 17th, 2008
---
12:44 pm
- Granada at night.
Upon his hill, his kingdom awaits me.
For me to enter slyly without anyone knowing.
He is who I feel every night
and he never has to speak.
His sea that runs through me takes me where
I never thought I could go...
feelings of love, sadness, bliss, sorrow...
all at once.
He opens himself and lets me in...
to find everything I once had before
...................
Everything was still perfectly the same
except for a few scratches and some dust on the walls...
from where few mistakes were made.
But he already knew
and made it clear that it meant nothing.
Your mark is the only one that stayed. you know...
he follows me with his eyes
and engulfs me
you had me again.
My back against your chest
feeling your lips trace over my neck
you knew I was close if you reached
So upon his hill, his kingdom awaits me.
It stands alone
runs parallel to the sea....
that took me too far from you long ago.
so I'd never visit it again.

current mood:
bored
Wednesday, February 13th, 2008
---
5:30 pm
- Time to believe all the lies you were told.
Happy Valentine's Day early.. ; )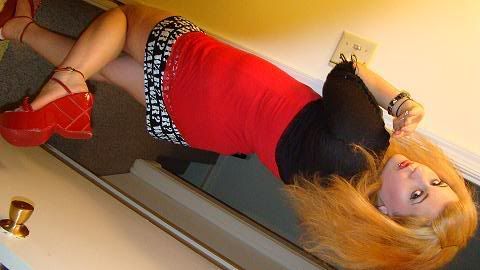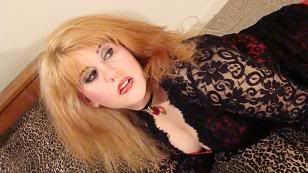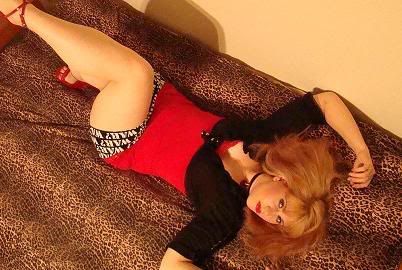 current mood:
amused
Tuesday, February 12th, 2008
---
9:07 am
- Me as a blonde.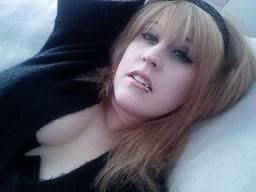 new pictures.. I promise.

current mood:
determined
Monday, January 7th, 2008
---
12:36 pm
- 5 Most Shocking of 2007.
For me atleast.. here is a Re-cap of my most shocking.

5. Reuniting with an ex after 3 years... so you all know I broke up with Branden... I have nothing bad to say about him and I keep my relationships private.. I did end up getting back with Robbie after 3 years.

Shock value... 1 out of 5 stars.

4. Having a tube stuck down my nose and into my throat.. Me going to the doctor for my sinus which had been giving me trouble for years.. My doctor proceeds to tell me I have a deavated septum which yes eventually I will get a nose job ! but besides that I have a polyup in my sinus cavity.. I get this blue liquid up my nose and it starts to go numb.. next thing I know I'm having a long probe sliding down my nose stuffing it full and sliding down the back of my throat.. I panicked and almost fainted. I get a coke to bring my blood sugar back up and I was shaking....
I never saw it coming.

Shock value... 2 out of 5 stars.


3. The redskins my favorite team ever... winning and doing well in the beginning.. then my man gets hurt.. who you all know has been Sean Taylor.. well.. needless to say he gets injured then the best players start dropping like flies... injuries we were prone for this year.. and the biggest shocker injury came when Jason Campbells knee took a hit... putting Collins in.. I for sure thought our season was over.. after those devastating losses..Todd Collins rallies our team to 4 wins straight mostly away games.. the most memorable of 2007 was the win against Dallas where we won by 21 points... perserving a legacy. Although losing in playoffs... we played 4 emotion fueled games.. for Sean.

Shock value... 3 out of 5 stars.


2. Red roof Inn incident... in Williamsburg VA..
instead of me typing this story... here it is in a nutshell.
the title..
"Owner Will Give Your Room Key to anyone that wants to give you a bible!"

http://www.tripadvisor.com/ShowUserReviews-g58313-d224945-r10354208-Red_Roof_Inn_Williamsburg-Williamsburg_Virginia.html
my review is first...

Shock Value...4 out of 5 stars.


1. The most heartbreaking and shocking for me for 2007 was the loss of Sean Taylor from the Washington Redskins.. I remember it like it was yesterday.. my favorite player of all time.. shot.. then in CCU ... looks like he might pull through.. the next morning I wake up and my dad had left me a voice mail saying he heard on the radio Sean had died in his sleep...this had a major effect on anyone that's a Redskins fan.. he was the BEST player for our team ever.. and the best safety in the NFL...even before Sean Taylors passing he was to be announced the top pick for the Pro Bowl..to get an award..there will never be another Sean Taylor but his legacy will live on .. I see it in Laundry when he plays..
21 forever.

Shock Value... 5 out of 5 stars.

current mood:
blank
Thursday, August 23rd, 2007
---
7:19 pm
- oh uhhhhh!
OH peeps!


OH gabz!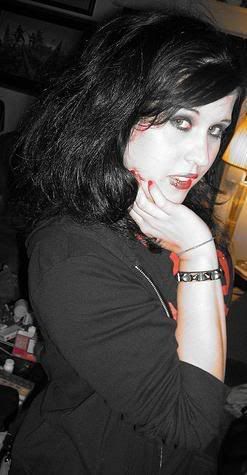 7:10 pm
I will be your worst nightmare...

current mood:
devious
Tuesday, August 21st, 2007
---
2:33 pm
- You say the words but I don't know what it means...
Here are a few pictures from the show!!

Placebo signing....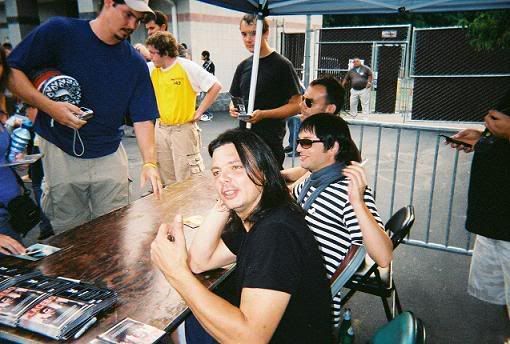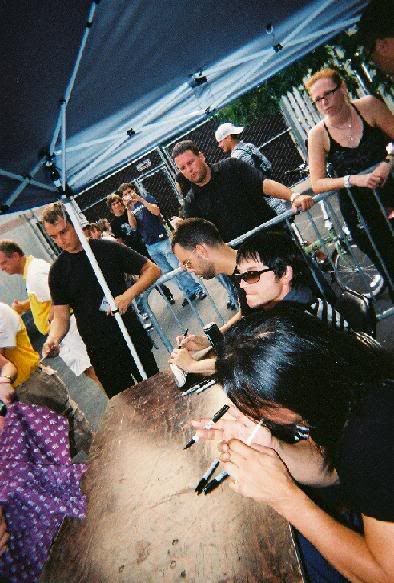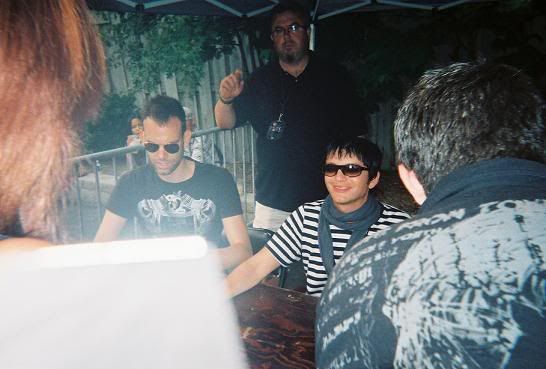 Rob and Novak? some guy from Bam Margera show rofl.. I wouldn't know who it was if I passed him on the street



Me and Brian MOLKO!!



Me and ROBBBB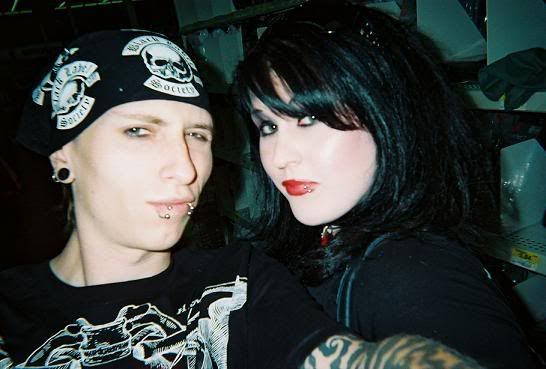 current mood: HEADACHE!
Monday, August 20th, 2007
---
2:32 pm
- I told you I was SICK.
I MET BRIAN MOLKO!!!!!!!!!!!!!!!!!!!!!!!!!!!!!!!!!!!!!!!!!!!!!!!!!!!!!!!!!!!!!!!!!!!!!!!!!!!!!!!!!!!!!!!!!!!!!!!!!!!!!!!!
AND OF COURSE (STEFAN AND STEVE AGAIN...)
BUT I FINALLY MET BRIAN HAHAHAH.
MORE TO COME AND PICS LATER!
Friday, August 17th, 2007
---
6:25 pm
- Mystery.
So had an eventful night.. Rob and I went to the fair it was hot as shit & it took forever to get in..but I got to pet a duck, a baby potbellied pig, a mini horse, sheep, and a goat! They were soo cooot! Anyway Rob tried to win me goldfish he bought 60 balls and we couldn't get shit in the bowls lol.. oh well went home to hang out...

did I forget to mention Mystery came over.. we had a long conversation about how to be a master pick up artist... I sooo learned a lot .. ROFL.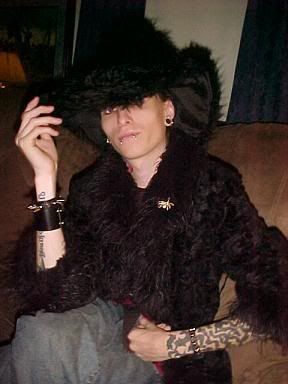 current mood:
bored
Tuesday, August 14th, 2007
---
6:13 pm
- Remember when we use to dance.. and everyone wanted to be.. you and me .. I want to be too...
what day is this?

Went to see DMB on Saturday night !! Me and Mom ate at Uno's & then we went to the show.. it was really good except for the fact when I got up out of my row to goto the bathroom & I got back I ended up bruising myself on the chair cause I couldnt get back over !
Mom & Dad got me a Santana Moss jersey!!! yayyyy I'm happy..
I'm out of here.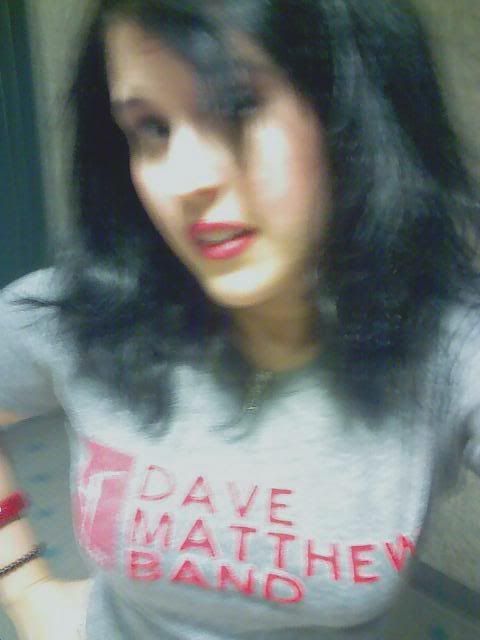 Can't wait to see Rob.. tonight.

current mood:
anxious
Saturday, August 11th, 2007
---
2:08 pm
- There is nothing you can say to make me change my mind.
I'm going to see DAVE MATTHEWS IN A COUPLE HOURS! lol it's going to be so hot outside though..



last night went with Rob to H-burg to get a fan fucked off up there for a bit and then came back and went midnight swimming... ohhh how fun except it was freezing lol... had a bit too much to drink anyway I miss Robz...
I'm pissed cause I'm going to miss a redskins pre season game.. what are the damn chances... oh well Rob better text me and let me know the score..I'm out

current mood:
excited
Saturday, July 28th, 2007
---
6:32 pm
- The BUTTER incident....


OMG hahahahahah

current mood:
anxious
Wednesday, July 25th, 2007
---
9:03 pm
- Me. me. me. post break up.
Got my hair cut today think it looks amazing.. well good haha. anyway i'm going to take more pics soon. Robz coming over soon to spare my boredom..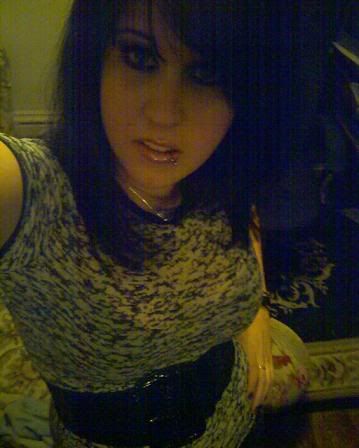 current mood:
happy
Sunday, July 22nd, 2007
---
5:38 pm
- There is often more stars in the sky every night.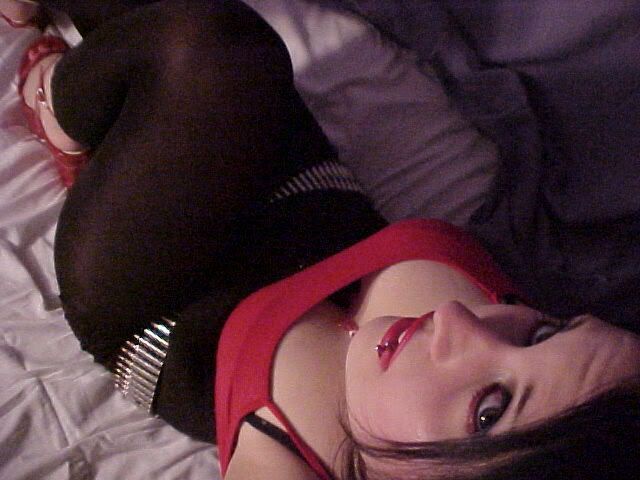 SCENT.

-He is open to being worthless & valuable
in the same sentence
& smells as if he came straight from the
antartic snow caps
I thought I believed once in him
& how we needed each other like a
drug.
I was high on the expectations
moved by the fact he wasn't like the others
but he was..
like all the rest
he tastes as if coated in a
substance of sin.
Trapping me beneath the tide
& drowning me with salt & sweet
come to me
like I once saw you
When you were pefect before
when you only wanted me..
I can still smell you
years ago
like an antartic snow cap
with a hint of a broken heart.

current mood:
okay
Thursday, July 19th, 2007
---
6:18 pm
- errrrrrrrrrrrrrrrrrrr.
There's the ones that you love
The ones that love you
The ones that make you come
The ones that make you come unglued
I can't turn my back on you
When you are walking away

current mood:
aggravated
Tuesday, July 17th, 2007
---
7:10 pm
- The media was all on me.
I'm sitting here talking to Robbie & I slide my wrist across the wood & get a splinter in it..talk about stinging!
I'm mad at you hahahah NO POOL ! : - /
You so owe me.
I'm out...

current mood:
bored
Monday, July 16th, 2007
---
7:41 pm
- Reinvention.
1st...I realized. OMG I look like a dork.
2nd thing. I hate my hair.
I have to run to backstage and return FEED thanks ROB hahaha
that movie is probably like a week late now.. I keep forgetting to return it.
April's dinner get together was fun last night.. she has two coot little cats.. anyway I'm out & I'm bored.

current mood:
bored